10/6/21
OCTOBER TIKKUN OLAM DRIVE
With cooler weather ahead, many children lack the basic necessities to keep warm in the winter months. Let's shop for the children at Visa Del Mar School, serving under privileged students with special needs. Click here to purchase items from the Target registry including sweaters, jackets, t-shirts, socks, underwear etc.
We will be collecting items in the ECC Lobby through October 29th. Thank you for your generosity! Questions? Contact PA Tikkun Olam Chair Marissa Besson or our ECC PA Co-Presidents.
7/1/21
Exciting News in the ECC!
On behalf of the Kehillat Israel Board of Trustees, clergy and staff we are excited to announce the promotion of Alana Levitt to the Director of the Early Childhood Center beginning on July 1, 2021. Alana came to us from University Synagogue as our Associate Director. She has been an integral part of the ECC's growth and success during this challenging year. We are confident Alana will lead the ECC into a healthier and more prosperous future.
We would also like to thank Rabbi Carrie Vogel for selflessly stepping into the role as Interim Director of the ECC and for working tirelessly over the past year to ensure our youngest students have a safe and nurturing environment to learn and grow, especially during this period of great uncertainty. We are thrilled that Carrie will continue to be involved in the ECC as an advisor and remain a resource for ECC families. Words can not express our gratitude for the time, dedication, and love Rabbi Vogel brought to this position. We are so grateful to have her as part of our staff as she returns to her original role as Director of the Jewish Experience Center.
Rabbi Amy Berstein
Amy Bersch, VP of Education
Dara Davis Beer, ECC Trustee and Incoming VP of Education
-------
First, I want to thank all of this year's ECC families for being my partners as we navigated through this unimaginable school year. The amount of trust you placed in me was enormous and I took your loyalty and confidence very seriously. Most importantly though, the joy your children brought here each day is what carried me through some of the most difficult moments and I am incredibly grateful to have had each one of them in our program this year.
Next, I want to share with our entire congregation, many of whom have never had children in our ECC, or those whose children have long since graduated, what an incredible team of teachers I was privileged to work with this year. Our staff showed up day after day, in an environment where they could not socially distance, eight full months before vaccines were available to them, and they did it with the same love and devotion that they have brought every other year. Thank you to all of them for making this year not just possible, but successful.
Finally, while I am excited to return to officially "just" working with our K-12th grade families, as Rabbi Bernstein and our Trustees indicated I am looking forward to continued involvement in the ECC (and not just because my office is smack in the middle of it!). It has been wonderful to work with Alana this year and I know she will use her depth of knowledge about early childhood learning and kind, generous personality to continue to grow and enrich our ECC.
Looking forward to a wonderful rest of this year!
Rabbi Carrie Vogel
-------
I am delighted to begin my role as Director of the Early Childhood Center at Kehillat Israel. In the past ten months as Associate Director, I have been in awe of this community's engagement, the innovative and supportive temple clergy and staff, and the gifted group of early childhood educators. Our school is truly special and I am grateful to Rabbi Carrie for taking such great care over the past year to keep all of us safe while preserving the joyful and nurturing environment that has been cultivated here.
I look forward to continuing to build upon that strong foundation while working to develop and enhance the experience for all who enter.
My grandparents, Allan and Flo Elfant were members at KI (formerly JCPP), and generations of my family have been involved here in the decades since. It's an honor to return to this community with my own family - my husband Sam and our children Molly (11) Jordan Lilly (7) and Dylan (5). Having an impact on the future of KI is a gift I will treasure.
If we haven't met yet, or if you have only seen half of my masked face in the ECC carpool line, I look forward to more opportunities for us to interact and get to know each other in the future. Thank you for your warm welcome and the great honor of being the Director of KI ECC!
Alana Levitt MAEd
---
5/24/2021
Announcing The Molly Steinsapir Early Childhood Center
Dear KI Community,
In our tradition, memory is the most powerful way that we can preserve the holiness of a life. As a demonstration of this profound Jewish value, the KI Board of Trustees is honored to announce the renaming of the KI ECC to the Molly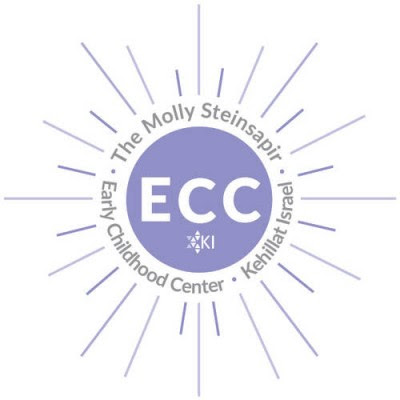 Steinsapir Early Childhood Center, in memory of the Steinsapir family's recent tragic death of their daughter.
The Steinsapirs are among the many families who have long displayed a special dedication to the KI Community and their loss has touched millions throughout the world. Each of their children have strong memories and friendships through their time in our preschool and JEC. The death of twelve-year-old Molly has created an outpouring of expression for the love of our children and reminds us all that life is precious and fragile. It is a fitting way to honor a girl who loved learning at KI by naming a school for her.
May we continue to honor all our children by helping our ECC flourish.
---
12/4/2020
Shabbat Shalom ECC Families!
As we begin to prepare for Chanukah, I want to share with you the story of Hillel and Shammai. Hillel and Shammai were two rabbis who lived in the first century who are most well known for their arguments with each other. If Hillel said that we should stand when we said the Shema, than Shammai would say that we should sit down. We have 316 written arguments between these two rabbis. Generally, Shammai was more strict about things than Hillel was. This means that he would more frequently do more than was absolutely necessary, just to be on the safe side. Out of all of those 316 arguments, Shammai only "won" about four or five of them. When we say "won" it means that what is practiced now comes from the opinion which Shammai stated.
One of these 316 arguments was about the menorah. Hillel felt that we should add one candle each night because candles are one of our symbols for holiness and you always want to increase the amount of holiness. However Shammai said that we should begin with eight candles and remove one candle each night because the first night should have the biggest and brightest celebration, since it is the first night of the holiday.

Clearly Hillel won this argument because I am guessing that most of you have never heard of the practice of starting with all of the candles and going down to one. However, as many families have more than one menorah, we encourage you to try this tradition out because, well, it's 2020 and why not!

Shabbat Shalom!

Rabbi Carrie
---
11/13/2020
"And Abraham breathed his last, dying at a good ripe age, old and contented; and he was gathered to his kin." - Genesis 25:8
Rabbi Ruben's weekly Torah commentary discusses, "the Rabbis taught that this signified Abraham's life wasn't merely filled with years, but with years filled with meaning. "A good ripe age" meant a life filled with relationships, purpose, and significance, just as Abraham had lived his life."
Today was the first of our new Parenting Center Shabbat class. Masked and on our own blankets 6-10 feet away, Rabbi Daniel and I were so happy to bring a Shabbat Experience to our youngest learners and their parents. After two outdoor classes in the morning, (disinfecting wipes, two sets of shakers an all manners of COVID precautions in place) I then ran back to the ECC to participate in my son Dylan's turn as Shabbat Yeled in the Yellow Room, checked on the other classes, grabbed a bite of lunch, and then sat down to write this message. I feel grateful every day for the opportunity to be this busy doing a job I love with people I learn from and respect. I know that life is busy for all of us right now, even if it looks so vastly different.

For our children, every week is full and exciting. in the two and a half months that we have been in school, the teachers have already seen your child's independence, language, and friendships grow by leaps and bounds. It was a pleasure for our teachers to talk with you during Parent Teacher Conferences this Tuesday. (Yes, that was THIS week!)
I hope you can breathe a sigh of relief this Shabbat, feel content like Abraham and can celebrate the end of another good ripe week.

Shabbat Shalom,

Alana


---
11/6/2020
Sending you all Shabbat blessings of strength, inspiration and love.

Rabbi Carrie
---
10/23/2020
Shabbat Shalom ECC Families!

Get excited because starting next Friday our students will start making challah as part of their celebration of Shabbat!
Many schools, including ours, have not done any baking since reopening. This is in part because of concerns about spreading germs, but also because baking with preschoolers takes a lot of time and in our current situation, everything takes a lot of time. However, many of our students and teachers have asked if we can bring back some form of baking, as it is excellent for building fine and gross motor skills, practicing counting and working on delayed gratification. After consulting with a doctor, we have been given the green light to continue our regular challah practice, which means that one teacher makes the dough the night before and each child is given their own ball of dough to work with before it is labeled with their name (via popsicle stick).

The brilliant Jewish philosopher, Rabbi Abraham Joshua Heschel, wrote that "Shabbat is a palace in time." What he meant is that Shabbat is time bound, rather than location bound. That we do not need to be in a sanctuary to celebrate Shabbat (although we love it when you are!), because Shabbat is "here" either way. For me, one of the markers that Shabbat is "here" is smelling challah baking each Friday morning and I really can't properly express how strange it is to be in the school on Fridays without the smell of freshly baked bread. It is such a visceral connection for me that I often forget that it is Friday. For our children, these are exactly the kinds of meaningful moments which we are working to create - for them to know that the scent of baking challah means it is Shabbat, to feel pride at showing off the challah they "braided," to have clear markers telling them that a special time of the week is about to be upon them. These markers are the scaffolding of a long term Jewish identity which we are working hard to build.
And lastly, we know, any semblance of normal that we can offer is profoundly important for our students. I know they will be as excited as I am to bring back one of the ECC's most special rituals.

Rabbi Carrie
---
10/16/2020
Shabbat Shalom ECC Families!

This week's Torah Portion is Parshat Bereshit. It is the very first portion of the year and includes the story of Creation.

It was just less than a month ago that we celebrated Rosh Hashanah, and here we are again recognizing new beginnings as we start back at the first chapter in the Torah. Judaism gives us ample opportunity for new beginnings - there are even four recognized "Jewish New Years" in a year.

When we talk about Jewish holidays in school, adults often ask children, "What's that holiday we celebrate every single week?" Shabbat gives us a much-needed separation from the work week, the chance to recharge and start fresh.

With our children, every day is a new beginning. They wake up every morning with the same energy regardless of the number of hours they slept.

Our parenting also benefits from this constant state of renewal- A tantrum in the afternoon can be turned around with a calming bath time before bed. When we find ourselves getting short tempered with our kids, the relationship can be repaired and even strengthened with some quality time together.

Teachers give children second chances (or third, or forth...) to master a new skill and build upon something they are learning. Kids learn best when they know that the adults who care about them will give them the chance to learn and grow at their own pace.

Jewish tradition and child development both teach us to rest and renew- not once a year but many times in a calendar year, month, week or even throughout a single day.

Shabbat Shalom.

Alana
---
10/9/2020
Shabbat Shalom ECC Families!

This week, I want to talk about the phenomenon that is Blippi. For those who aren't humming the excavator song all day ("I am excavaaaaatooooorrrrrr!") let me give you the basics: Blippi is a character created by Stevin John, who grew up in rural Washington and served in the military before working in marketing. Blippi teaches children about all sorts of things, from boats ("Boating down the river, sailing on the sea!") to cherry farms to colors and shapes.

There are a lot of children's shows that teach about different things. In particular, as we get more channels and YouTube becomes a more popular and accessible way for "regular people" to have an audience, there are plenty of ways to have our children be exposed to fun children's programming. But what sets Blippi apart from these other shows, what Stevin insisted be a part of the character he created and what makes Blippi so entertaining for children (and sometimes annoying for adults!) is that he is really, really, really happy about everything. If you are familiar with the show than you know what I am talking about, but if you aren't just imagine someone gleefully doing the sink or float game, or playing on a playground, or playing with a pretend fire truck ("Fire truck, fire truck, I wish I could drive a fire truck!"). Stevin felt that there were not very many children's characters who were entirely joyful and when thinking about it, he's right.

Now, I fully support having characters on shows like Daniel Tiger and Sesame Street who are multifaceted and share their feelings. But even when I am most annoyed by Blippi, I can't help but be charmed by how damn happy he is. And I've been wondering, as we move into the 3rd year 7th month of COVID how it might serve us to force some high level joy upon ourselves. Because I know there are some days when Stevin wakes up and says, "you know, I am just not that excited about pretending my lunch was stolen by a raccoon today" ("Ohhhhh, police car!") but you'd never know it from watching the videos. I know we are all emotionally and mentally depleted and I want to validate every one of you and say that you are doing a great job. But the "fake it til you make it" line rings true - when we experience joy, even forced, it really does give us an emotional boost. So either fire up Amazon Prime (I recommend starting with the later seasons and don't watch the chocolate factory episode unless you are prepared to give your children some chocolate) or find a way to be silly and goofy for 10 minutes with what you have at home. It's far less about the joy it will bring your kids (which is definitely an added benefit) and more about the joy that it will bring to you.

Shabbat Shalom,
Rabbi Carrie

*I did not have to Google any of the lyrics that I posted above as they are a permanent part of my memory in the space which was previously reserved for long division.
---
October 2nd, 2020
sukkot Begins Tonight
Sukkot begins tonight, and it is my favorite Jewish holiday. Not only does it get us into the spirit of fall, but it is the only holiday whose celebration commands us to go outside! After the deep introspection of Yom Kippur, we go outside both physically and emotionally. We recognize the changing of the seasons, the fragility of our world and that we can find shelter with one another and overcome challenges together.

We celebrate Sukkot with all of our senses. The arba-minim, or four species, connect us to nature and the land of Israel. We smell the sweet etrog, touch and hold the lulav made of palm, and observe the different shapes of the myrtle and willow leaves.

Children learn with their whole bodies and I have learned quickly that that is especially true here at KI ECC! Each class approaches the holiday with age-appropriate explorations and activities, and it has been such a pleasure to observe each classroom building and decorating for Sukkot in their own unique ways.

While many of our typical traditions and activities are on hold or have been reimagined this year, our children are still experiencing this holiday and the calendar year with fresh eyes and open hearts. Our teachers guide children and empower them to explore and grow as people and independent, autonomous learners. We feel fortunate to be able to provide children and families with valuable in-person programming, despite the current restrictions. (PS- Wear a mask!)

Sukkot offers us the opportunity to take our celebrations of Jewish holidays outside, to explore the great outdoors and to renew ourselves through that deep connection between nature and humanity. We look forward to continuing our Sukkot explorations next week, and offering you the opportunity to connect with KI in the week ahead.

Look out for more ways in which we will celebrate Sukkot and Simchat Torah in the ECC in the coming weeks. At home, you can make a fort or other structure and participate in our #sukkahchallenge, schedule a time to shake the lulav with Rabbi Daniel, or start your own family traditions.

Shabbat Shalom & Hag Sameach,

Alana
---
September 25th, 2020
One Step Forward
The story of our people is one of travelers, one of wanderers, one of new beginning after new beginning after new beginning. As we made our way out of Egypt we stood at the edge of something big and scary with the understanding of only one thing – it had to be better than the enslavement from which we came.

And it was…sort of. Being in the desert brought freedom, sure, but it also brought the realization that freedom doesn't always mean perfection. And that honestly, freedom doesn't always mean freedom.

We stand together, just a few steps into our new Jewish year. And while it's clear that we too are stepping away from a year that was enormously difficult and complicated we are learning, in just the few days since Rosh HaShanah, that the passing of a date on the calendar is not what truly marks time for us. That we can't wish ourselves into 5781 (the new Jewish year) or 2021 in order to magically be in a better place. What passes the time and gets us to that better place, is hard work and perseverance (I'd say 40 years in the desert definitely counts as perseverance!) – characteristics that Jews have shown through the generations.

As we enter a Shabbat after a week of mourning – for the loss of both a Justice and the idea of justice – let us strengthen ourselves with the realization that this is what we must do. Sometimes we can only loosen the chains of enslavement a little bit at a time, but we always keep moving in the direction of the Israelites. One step at a time towards freedom.

Wishing you and your family a sweet new year.

"At the shores of the Red Sea,
Miriam took up her timbrel
and sang her song: a song of praise to God.
With confidence and love,
she led our ancestors away
from their fear and hesitation
until all hands were joined,
all voices raised in hymn and thanksgiving.
May her example lead us, too;
and may her song soon grow
truly to be ours."

(Leo Baeck Temple prayerbook)
Rabbi Carrie
---
September 20th, 2020
Thanks for the Memories

Every event, milestone, and holiday is unique this year. I can rationalize and accept the Passover Seder spent at home, the canceled vacations, the parade-free 4th of July. However, as Rosh Hashanah begins tonight, I have become more reflective.

It's not just the holidays, but life events that we have been robbed of celebrating the way we would have wanted this year. Weddings, births, even the ability to gather and comfort mourners at a funeral have been taken from us this year.

I've found myself turning to the words and guidance of Japanese organizing consultant and author Marie Kondo. We can hold the memory of that strange and sometimes disappointing event and thank it for all it has done for us in helping us cope and sustain. And then we can take a deep breath and let it go. Not forget it, but learn from it and then move on.

As educators and parents, we know it's important to allow children to feel all of their emotions- happy, frustrated, jealous, excited, or disappointed. By permitting children to truly experience all of their emotions, process feelings and learn to overcome them, we give children the tools they will use in the future as adults. With regard to tantrums, the teething infant, energetic toddler years and many other events of childhood, the only way out is through.

When we look back at the past year and remember the disappointments, sadness or regrets, keep in mind that we are modeling to our children that these emotions are part of being human. When we accept these emotions in ourselves and others, and not repress or dismiss those feelings, it makes us better people and helps our children grow into emotionally healthy adults.

I'm going to take all of the disappointments and thank them for teaching me something, either about myself or about the world, and step into 5781 with a ton of experience I thought I'd never have and the wisdom of knowing that we made it through.

Shana Tovah. Wishing your family a sweet, happy, and healthy new year.

Alana
---
September 11, 2020
In this week's Torah portion we read,
You stand this day, all of you, before Adonai – your tribal leaders, your elders and your officials, all the men of Israel, your children, your wives, even the stranger within your camp, from woodchopper to water drawer – to enter into the covenant of Adonai, your God, which God is concluding with you this say, with its sanctions…I make this covenant, with its sanctions, not with you alone, but both with those who are standing here with us this day before Adonai our God and with those who are not with us here this day. (Deuteronomy 29:9-14)
This is one of my favorite texts for a two reasons:
Everyone is included. OK fine, women come after men and children, but the fact that women are mentioned at all is pretty impressive for our ancient texts. Plus the woodchoppers and water drawers! At a time when we are placing great effort into making sure access and inclusivity are at the forefront of our minds it's nice to see that in one our most seminal stories, we made sure to be inclusive.

God makes this covenant, not just with everyone standing at Sinai, but with all of the Jewish people from that point forward (those who are not with us here this day). For me, one of the post powerful aspects of our tradition is the idea that we are but one link in a massive chain of tradition, stretching both behind and ahead of us. To know that we are part of something much bigger than ourselves is extremely powerful – to know that my great, great, great grandparents read the same stories and said the same prayers makes me feel connected far beyond my family and my community.
This year, by joining our community, you are making an important statement that just as KI will always stand with you during difficult times, you too will stand with us in those moments. You are making a statement about the importance of Jewish tradition and continuity, for the generations both behind and ahead of you. And you are messaging to your children that KI is a place of safety and security, even when the world is upended.
Like the Jews at Mount Sinai, we stand together, putting trust in each other and about what our future looks like. And what a privilege it is to be standing here with each of you.
Shabbat Shalom.
Rabbi Carrie
---
SePTEMBER 4, 2020

What We Owe to Each Other

Tonight I get to meet my 4 month old niece, albeit socially distanced in my aunt's backyard. There will be four generations present, from four great-grandchildren to my 86 year old grandmother. A typical family gathering involves planning the food, location, and maybe some family gossip. Nowadays, we must also discuss COVID-19, and how we can spend time together while also staying safe and healthy.

Our families as well as our school and synagogue community grapple with the same questions. How can we connect with one another in the safest way possible at the moment? How do we balance the need to socialize while protecting ourselves from a highly contagious virus?

Never before did I think that my actions: the places I go, people I see, activities I engage in; would so directly affect those around me. Putting our children in school together this year means that we have entered into a substantial social pact with one another. What we do and who we interact with (and how often we stay home) on the weekends has a direct effect on the children, teachers, and staff in this building.

Our teachers and maintenance crew are doing a fantastic job with new protocols and routines. Children are so resilient, and when there is so much fun and exploration taking place in each classroom, the masks become a non-issue very quickly. We know that you are depending on us to help create an environment here in school that is as clean and safe as possible, and we appreciate your partnership in this process.

Connecting with each of you, even during this time is also important to me in my new role as Associate Director of the ECC. I look forward to finding unique ways to talk and learn more about you and your family in the coming weeks and months. While we must remain vigilant about safety, the strength of our Kehillah (community) is also paramount.

Have a wonderful and safe weekend, and don't forget to wear your mask!

Shabbat Shalom,
Alana Levitt
---
August 28th 2020

Shabbat Shalom everyone!

This week was, understandably, a huge transition for all of us. For our students they left the place that has been their primary place of being for the last 5 months. Even though they were excited to see their friends and teachers, it is still a jarring change to be in a different space and with different people. Please know that it is completely normal for them to be emotionally and physically worn out at the end of the day, as they return to navigating school life.
Moreover, whether they have articulated it or not, they have absolutely grown much closer to you in this time and the emotional baggage of separation is present, even if they hugged you and happily skipped into school. The good news is that just as they have successfully transitioned through every previous experience, so too will they successfully transition through this one. In the days and weeks to come (as many students save their transition struggles for a few weeks in), please continue to rely on our amazing team of teachers to guide your child through this experience.
And for us too, even though we can be honest and say it was nice to have some space from our children, we can also acknowledge that there has been a coziness to the last few months that we might be missing right now.
In particular, with drop off being moved from the classroom line to the carpool line, it is important that we have a smooth drop off process so it feels both calm and positive for our students. To this end, we strongly recommend arriving before 9 AM so that your child can be settled in the classroom when class begins and that you use the following order when dropping off:
Open Brightwheel when you are waiting in line.
Temperature check from Rabbi Daniel or Alana
When you are the 1st or 2nd car, unbuckle your child, give them their water bottle and a hug and hand them off to their teacher.
Check in using Brightwheel (we may ask you to pull forward to do this)
This ensures that your child has your full attention when they are with you, and allows the line to move as quickly as possible.

The Jewish people are a group that is constantly faced with transition, most of it not being of our own choice. Like our biblical and historical ancestors, and like Nachschon, who I spoke about at Back to School Night, we too must take the next steps forward, with a positive, forward thinking framework. It is with this intention that we end our first, and truly excellent, week of this new year.
Wishing you and your family a peaceful and restful Shabbat.

Rabbi Carrie
Sat, October 23 2021 17 Cheshvan 5782