Rainy Days at School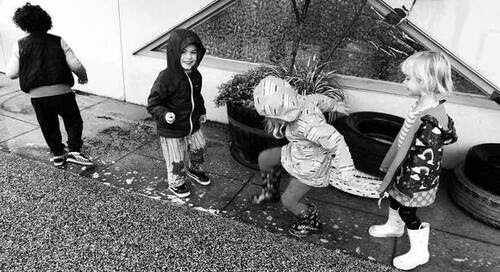 RAINY DAYS: On rainy days, our school will continue to utilize the Big Yard and side yards for outdoor play as this is an incredible opportunity for children to truly experience the seasons and weather. Remember how much fun it was to play in the rain as a child? We want our children in the preschool to have the chance to do that, too.

Parents must pack weather-appropriate clothes and change of clothes for their children - please purchase rain gear, rain boots, etc. to prepare for all weather when the time comes (if you are looking for an all-in-one covering for the rain, we suggest something like this). When outdoor play ends, each child will be changed promptly into warm, cozy clothes, so make sure you send your child with a full set of additional clothes including socks, shoes, pants, underwear and shirt. A 'wet bag' to send wet/dirty clothes home in is also helpful. Our school will continue to keep doors open to promote airflow in the classrooms as well.
ALWAYS Pack Extra Clothes when we send home wet/dirty clothes and always replenish your child's cubby!

Outdoor play in all weather is proven to be important for children's development, as discussed in these articles - lucky for us, we don't worry about snow, frostbite and frozen wind chill!
---
Twas the night before preschool...
Dear ECC families,

Tomorrow is the big day- our first day of school!

Don't forget to take a COVID test by tomorrow morning, when you sign in you will initial that your child has tested negative. Tomorrow, our doors open at 8:50am, there is no early or late care on the first day of school.

Click here for our Fall Parent Packet, which includes updated Parent Handbook, COVID Community Brit, Photo and Sunscreen Permission Form, and Mask Mandate Contingency Plan.

For new students, if you haven't completed this already, please bring the enrollment packet to our Administrative Assistant, Alex Haro, at the front desk. These forms are needed on the first day of school as part of our licensing requirements. All students must have an updated Immunization Record and Physician's Report by September 30th.

PICK UP/DROP OFF/SIGN IN: Upon arrival, our security staff will direct you to the lower parking level. For morning drop off, the doors to the ECC will open at 8:50am. For afternoon pick-up, doors open at 11:50am for half day and 1:50pm for full-day. The daily sign-in/out will be at the front desk. Be sure to sign in and out each day!

EARLY CARE/EXTENDED CARE/NAPPING: Early care begins at 8am and extended care goes until 3pm. Early Care will take place in the Purple Room with Teacher Debbie. Late Care will take place outdoors, on the Big Yard and/or side yards with Teacher Kiera. Morning and Afternoon Extended Care begins on the second day of school, Wednesday August 24th, register here.

For children who nap at school, be sure to pack a crib sheet, blanket, and any items needed to nap. We will send home these items every Friday for you to wash and return each Monday.

ENRICHMENT: Enrichment is open to children ages 3-5 years old. Children are served an afternoon snack in their classrooms and then attend Enrichment, taught by specialists and supervised by an ECC Staff. Pick-Up is at 3:00 pm. Enrichment starts the week of September 19th, register here.

PACKING LIST: Please bring these items every day:
A water bottle (which will be sent home each day)
Two full sets of weather-appropriate clothing (including socks and underwear)
Sunscreen and diaper cream, as needed (please provide a note with instructions that gives the school permission to apply, this form is available at the front desk)
Additionally, please bring these items at the start of the year to store in your child's cubby:
A spare pair of shoes
5-10 Diapers, if needed (be sure to replenish)
A spare well-fitting face mask
TRANSITION: For many children, tomorrow will be the first day of school ever. Congratulations on this exciting milestone! Click here for a pdf of our Transition Zoom.

CHALLAH: Don't miss out on delicious challah delivered on Friday mornings. Orders can be placed through this link, and should be placed by Wednesday morning in order to receive challah that week. Each Friday, you'll smell the delicious challah, an indelible part of Shabbat.

PARENTING CENTER: For families with babies and toddlers, we're happy to offer an expanded lineup of excellent Parenting Center classes (register at this link). These classes are educational, fun, and adorable.

This Friday is our last Shabbat at the Beach, we hope to see you there! See you all bright and early tomorrow morning,

Alana
News from KI ECC 6/23/22
Dear Families,
I am excited to announce the promotion of Nicole Bresnick from teacher to Assistant Director of the Early Childhood Center beginning on Monday, June 27th, 2022.
Nicole has worked in early childhood settings for eight years, most recently as a teacher in the Green Room. She brings expertise and deep institutional knowledge of our preschool program and synagogue community to her new role.
Nicole's dedication to our school's philosophy, her strong work ethic, and joyful enthusiasm will make our already stellar program even better. I look forward to working with her in this new role and I know that our team of incredible educators are equally excited as we strive to provide you and your family with a loving preschool experience. Together, we are setting the foundation for many years of Jewish learning and engagement.
Our full list of teachers and class lists will be shared in August. In the meantime have a happy and safe summer!
B'Shalom,
Alana
---
Dear KI ECC Families,
I am so excited to begin this new adventure with you. I've loved working in the classroom for the past eight years, and I feel lucky to be able to continue my growth in this new role. More than anything, I am excited to continue strengthening the amazing connections I have made with the children and families here at KI.
The ECC team has been tremendously supportive and I am extremely grateful to all of them as we move into this next chapter. I want to thank Alana for her thoughtful and meaningful leadership and look forward to working closely with her, the teachers, and our young learners in the years ahead.
If we haven't yet met, I look forward to getting to know you during camp and in the new school year! In my experience, KI is the perfect community for anyone to start something new. Whether it's the very first day of school, or the first day on a new job KI is the absolute ideal place to learn and grow. I am looking forward to supporting you all through your children's growth within their early childhood years (and more!).
Nicole
---
May Tikkun Olam Drive: Shoe Drive for Veterans
---
5/4/22
Dear ECC Families,
This week has been busy! Between preparing for Mothers Day, learning about Yom Ha'Atzma'ut, Wild Child Gymnastics today, and tomorrow's Yoga with Jessica Jablonski thanks to our generous Parent Auction, we are having another fun-filled and active week of preschool.

Classes are boarding a pretend plane and flying to Israel: In the Blue and Red Room, we have been listening to Israeli music, eating Israeli Salad, and painted the Israeli flag.The Purple Room took the lead making a giant birthday cake for the state of Israel, and are learning Hatikva, Israel's national anthem. The Green Room has been drawing up a storm and are coloring Israeli flags, making birthday crowns, and more. The Yellow Room kids will use their pretend shekels to buy produce in shuk to make their own Israeli salad. And much more!



This Friday's Tot Shabbat will feature some artwork based on our explorations of the colors and features of Israel, and Israeli food. The service will be led by Rabbi Daniel, Rabbi Steven Reuben AND Daniel Leanse. We hope to see you there, don't forget to RSVP! Masks are strongly reccomended while indoors, including in the sanctuary.

Shabbat in the Sanctuary- Friday Mornings 9:05-9:20am
Please make sure to arrive at school on time and sign-in at the front desk. If you arrive late, meet us upstairs in the Sanctuary. A teacher will direct you up the side stairs of the Sanctuary so there will be no disruptions to the service once it has begun.

Please sit in the assigned area for your child's class. If you have more than one child, choose one area each week. All children must sit with their adult at all times. Our service will start promptly at 9:05am and we will begin dismissing classes at 9:20am.

It's sometimes hard for children to say goodbye, so please walk your child back down to their classroom after the program. If you will not be staying for the service, or not walking down to the classrooms, please make sure your child is with their teacher before you leave and you have gotten verbal confirmation from your teachers that you are leaving your child in our care.

Help us make Shabbat special: Sing with your children, dance, and enjoy Shabbat as a community. Your children are welcome to honor Shabbat by dressing up - we do not have messy art or painting on Fridays for this reason.

Our last day of school is fast approaching on Wednesday, June 8th. Yellow Room Graduation is Thursday, June 9th. And mark your calendars! The first day of ECC 2022-23 will be Tuesday, August 23rd.**

Have a safe and wonderful rest of your week.

Alana
Helpful Links:
KI ECC Illness Policy
ECC Summer Camp: June 20-July 29th

---
4/21/22
Dear ECC Families,
I hope you are having a wonderful Spring Break. The seasons have changed and so have the COVID numbers in LA County - thankfully, we are moving in the right direction. Please take the time to read through this email to review our health protocols and updated policies below.
1. Masking: In accordance with LADPH, masking indoors continues to be strongly recommended, but not required. Thank you for your continued understanding of individual choice regarding masking.
2. Sick Protocols: Please keep sick children at home. As we have all seen over the last few weeks, regular childhood illnesses, colds and the flu are making a reappearance at schools. If your child is sick, please keep them at home until symptoms have diminished or until you have clearance from a physician. This is the best way to minimize the spread of any type of illness in our school. Here is our Illness Policy, which can also be found on Page 9 of the Parent Handbook.
3. Class Closure: According to LADPH, automatic class closures are no longer required after a COVID exposure at school. All situations will be evaluated on a case by case basis, and a plan will be made in each individual instance. As always, we will do everything in our power to be as transparent as possible as situations arise.
4. Testing After Spring Break: As we have done throughout this school year, we will continue testing as our families return from break. Every child and staff must have a negative at-home antigen test taken within 24 hours of returning to school, and be in good health. If you don't have an antigen test at home, we've got you covered!
Please let me know and we would be happy to provide you with the necessary test(s). Please email ecc@ourki.org a photo of your child's negative test by 9am on Monday, April 25th or the first day your child returns to school.
Please know that we continue to monitor the health information in our area with staff attending regular calls with the Los Angeles County Department of Public Health. When things change, we will, at a minimum, adjust our standards in accordance with local health directives. After living with the pandemic for more than two years, we know how tiresome and stressful the shifting in regulations can be.. No matter which direction the world turns, our one and only goal is to educate your children in the safest and healthiest way possible.
We're here for you have any questions.
Alana
KI ECC Illness Policy
Children will not be permitted to stay at school if a staff determines the child shows signs of illness or infection. If you are aware that your child is sick, you must keep your child home. A doctor's note stating that your child is no longer contagious may be required before they return to school. In cases of emergency, 911 will be called first, followed by a call to the parent.
Following an illness, children may return to school when:
Fever has been absent for 24 hours without the use of fever-reducing medication

Diarrhea has stopped for 24 hours

Vomiting has stopped for 24 hours

Nasal discharge is sporadic, not requiring continuous wiping

Twenty-four hours after beginning medication for strep, conjunctivitis, or impetigo

One week after the onset (or all lesions are crusted) of chickenpox and Hand, Foot, and Mouth Disease.
If your child has allergies, a doctor's note on file is needed documenting the symptoms and treatment so we can best meet your child's needs. We recognize that certain allergy symptoms are unavoidable; however they must not affect their behavior or ability to fully engage at school. If they do, we will ask that you pick them up.
Because our school is not equipped to care for ill children, parents and the staff will use the following criteria to exclude children with short-term illnesses from attending our school:
Does not feel well enough to participate comfortably in usual activities (regardless of temperature)

Constant Nasal Discharge: 3 wipes in 15 minutes is general rule

Shows obvious signs of illness such as a new cough, fever, diarrhea, vomiting

Shows symptoms of a contagious disease or immediate need for medical evaluation
10/8/21
Dear ECC families,

Yesterday, we had a visit from Dr. Penni Sellers, a therapist who specializes in Early Childhood and Parenting. Dr. Penni has been a wonderful resource for our teachers for many years. Her visit included an observation of each classroom and an identification of children who may need further evaluation for Occupational Therapy, Speech, etc. We will be in touch regarding points of minor assistance that Dr. Penni shared with us about students next week.

As teachers it's never our goal to diagnose, we simply want to help you and your child get any help that may be needed. Let us know if you have any questions, and we will reach out to each parent individually and confidentially if we have any specific concerns.

Rain and Weather Reminders

On rainy days, our school will continue to utilize the Big Yard and individual side yards for outdoor play as this is an incredible opportunity for children to truly experience the seasons and weather. Remember how much fun it was to play in the rain as a child? We want our children in the preschool to have the chance to do that as well.

We encourage you to purchase rain gear, rain boots, etc. to prepare for all weather when the time comes (if you are looking for an all-in-one covering for the rain, we suggest but do not require you purchase something like this).

After leaving the outdoors, each child will be changed promptly into warm, cozy clothes, so please make sure you send your child with a full set of extra dry clothes on those days including socks, shoes, pants, underwear and shirt. A 'wet bag' to send wet/dirty clothes home in is also helpful. Our school will continue to keep doors open to promote proper airflow in the classrooms as well.

Outdoor play in all weather is proven to be important for children's development, as discussed in these articles--lucky for us, we don't worry about snow, frostbite and frozen wind chill!
Illness
Adults have an average of 2-3 colds per year, and children can often have even more. We do our best to prevent the spread of any illness by regular hand washing, ventilation, and by staying home when a child is sick. When illness spreads in a classroom, it also impacts our teachers' health, which is a strain on the entire class and school. We know that staying home when your child is sick is a disruption and thank you for your cooperation.

Updated COVID guidelines including masking, travel, vaccination, and more will be available next week. Reminder, we will have drive-through testing on Sunday, November 28th at KI from 8:30-10:30am after the Thanksgiving Break. More information and Sign-Up Genius coming soon.

Shabbat Shalom,

Alana
10/6/21
OCTOBER TIKKUN OLAM DRIVE
With cooler weather ahead, many children lack the basic necessities to keep warm in the winter months. Let's shop for the children at Visa Del Mar School, serving under privileged students with special needs. Click here to purchase items from the Target registry including sweaters, jackets, t-shirts, socks, underwear etc.
We will be collecting items in the ECC Lobby through October 29th. Thank you for your generosity! Questions? Contact PA Tikkun Olam Chair Marissa Besson or our ECC PA Co-Presidents.
7/1/21
Exciting News in the ECC!
On behalf of the Kehillat Israel Board of Trustees, clergy and staff we are excited to announce the promotion of Alana Levitt to the Director of the Early Childhood Center beginning on July 1, 2021. Alana came to us from University Synagogue as our Associate Director. She has been an integral part of the ECC's growth and success during this challenging year. We are confident Alana will lead the ECC into a healthier and more prosperous future.
We would also like to thank Rabbi Carrie Vogel for selflessly stepping into the role as Interim Director of the ECC and for working tirelessly over the past year to ensure our youngest students have a safe and nurturing environment to learn and grow, especially during this period of great uncertainty. We are thrilled that Carrie will continue to be involved in the ECC as an advisor and remain a resource for ECC families. Words can not express our gratitude for the time, dedication, and love Rabbi Vogel brought to this position. We are so grateful to have her as part of our staff as she returns to her original role as Director of the Jewish Experience Center.
Rabbi Amy Berstein
Amy Bersch, VP of Education
Dara Davis Beer, ECC Trustee and Incoming VP of Education
-------
First, I want to thank all of this year's ECC families for being my partners as we navigated through this unimaginable school year. The amount of trust you placed in me was enormous and I took your loyalty and confidence very seriously. Most importantly though, the joy your children brought here each day is what carried me through some of the most difficult moments and I am incredibly grateful to have had each one of them in our program this year.
Next, I want to share with our entire congregation, many of whom have never had children in our ECC, or those whose children have long since graduated, what an incredible team of teachers I was privileged to work with this year. Our staff showed up day after day, in an environment where they could not socially distance, eight full months before vaccines were available to them, and they did it with the same love and devotion that they have brought every other year. Thank you to all of them for making this year not just possible, but successful.
Finally, while I am excited to return to officially "just" working with our K-12th grade families, as Rabbi Bernstein and our Trustees indicated I am looking forward to continued involvement in the ECC (and not just because my office is smack in the middle of it!). It has been wonderful to work with Alana this year and I know she will use her depth of knowledge about early childhood learning and kind, generous personality to continue to grow and enrich our ECC.
Looking forward to a wonderful rest of this year!
Rabbi Carrie Vogel
-------
I am delighted to begin my role as Director of the Early Childhood Center at Kehillat Israel. In the past ten months as Associate Director, I have been in awe of this community's engagement, the innovative and supportive temple clergy and staff, and the gifted group of early childhood educators. Our school is truly special and I am grateful to Rabbi Carrie for taking such great care over the past year to keep all of us safe while preserving the joyful and nurturing environment that has been cultivated here.
I look forward to continuing to build upon that strong foundation while working to develop and enhance the experience for all who enter.
My grandparents, Allan and Flo Elfant were members at KI (formerly JCPP), and generations of my family have been involved here in the decades since. It's an honor to return to this community with my own family - my husband Sam and our children Molly (11) Jordan Lilly (7) and Dylan (5). Having an impact on the future of KI is a gift I will treasure.
If we haven't met yet, or if you have only seen half of my masked face in the ECC carpool line, I look forward to more opportunities for us to interact and get to know each other in the future. Thank you for your warm welcome and the great honor of being the Director of KI ECC!
Alana Levitt MAEd
---
5/24/2021
Announcing The Molly Steinsapir Early Childhood Center
Dear KI Community,
In our tradition, memory is the most powerful way that we can preserve the holiness of a life. As a demonstration of this profound Jewish value, the KI Board of Trustees is honored to announce the renaming of the KI ECC to the Molly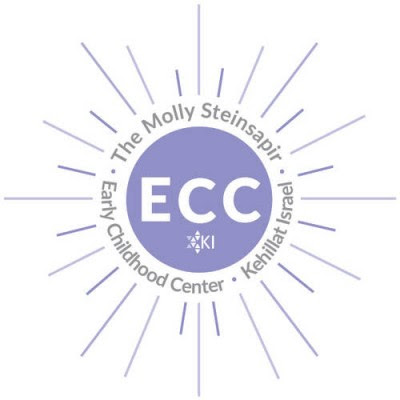 Steinsapir Early Childhood Center, in memory of the Steinsapir family's recent tragic death of their daughter.
The Steinsapirs are among the many families who have long displayed a special dedication to the KI Community and their loss has touched millions throughout the world. Each of their children have strong memories and friendships through their time in our preschool and JEC. The death of twelve-year-old Molly has created an outpouring of expression for the love of our children and reminds us all that life is precious and fragile. It is a fitting way to honor a girl who loved learning at KI by naming a school for her.
May we continue to honor all our children by helping our ECC flourish.
---
SePTEMBER 4, 2020

What We Owe to Each Other

Tonight I get to meet my 4 month old niece, albeit socially distanced in my aunt's backyard. There will be four generations present, from four great-grandchildren to my 86 year old grandmother. A typical family gathering involves planning the food, location, and maybe some family gossip. Nowadays, we must also discuss COVID-19, and how we can spend time together while also staying safe and healthy.

Our families as well as our school and synagogue community grapple with the same questions. How can we connect with one another in the safest way possible at the moment? How do we balance the need to socialize while protecting ourselves from a highly contagious virus?

Never before did I think that my actions: the places I go, people I see, activities I engage in; would so directly affect those around me. Putting our children in school together this year means that we have entered into a substantial social pact with one another. What we do and who we interact with (and how often we stay home) on the weekends has a direct effect on the children, teachers, and staff in this building.

Our teachers and maintenance crew are doing a fantastic job with new protocols and routines. Children are so resilient, and when there is so much fun and exploration taking place in each classroom, the masks become a non-issue very quickly. We know that you are depending on us to help create an environment here in school that is as clean and safe as possible, and we appreciate your partnership in this process.

Connecting with each of you, even during this time is also important to me in my new role as Associate Director of the ECC. I look forward to finding unique ways to talk and learn more about you and your family in the coming weeks and months. While we must remain vigilant about safety, the strength of our Kehillah (community) is also paramount.

Have a wonderful and safe weekend, and don't forget to wear your mask!

Shabbat Shalom,
Alana Levitt
---
August 28th 2020

Shabbat Shalom everyone!

This week was, understandably, a huge transition for all of us. For our students they left the place that has been their primary place of being for the last 5 months. Even though they were excited to see their friends and teachers, it is still a jarring change to be in a different space and with different people. Please know that it is completely normal for them to be emotionally and physically worn out at the end of the day, as they return to navigating school life.
Moreover, whether they have articulated it or not, they have absolutely grown much closer to you in this time and the emotional baggage of separation is present, even if they hugged you and happily skipped into school. The good news is that just as they have successfully transitioned through every previous experience, so too will they successfully transition through this one. In the days and weeks to come (as many students save their transition struggles for a few weeks in), please continue to rely on our amazing team of teachers to guide your child through this experience.
And for us too, even though we can be honest and say it was nice to have some space from our children, we can also acknowledge that there has been a coziness to the last few months that we might be missing right now.
In particular, with drop off being moved from the classroom line to the carpool line, it is important that we have a smooth drop off process so it feels both calm and positive for our students. To this end, we strongly recommend arriving before 9 AM so that your child can be settled in the classroom when class begins and that you use the following order when dropping off:
Open Brightwheel when you are waiting in line.
Temperature check from Rabbi Daniel or Alana
When you are the 1st or 2nd car, unbuckle your child, give them their water bottle and a hug and hand them off to their teacher.
Check in using Brightwheel (we may ask you to pull forward to do this)
This ensures that your child has your full attention when they are with you, and allows the line to move as quickly as possible.

The Jewish people are a group that is constantly faced with transition, most of it not being of our own choice. Like our biblical and historical ancestors, and like Nachschon, who I spoke about at Back to School Night, we too must take the next steps forward, with a positive, forward thinking framework. It is with this intention that we end our first, and truly excellent, week of this new year.
Wishing you and your family a peaceful and restful Shabbat.

Rabbi Carrie
Tue, June 6 2023 17 Sivan 5783